Field of Honor Full of Life is an important "source project" because the Systemic Perspective I developed and formulated for Field of Honor Full of Life is an inspiration for many other projects within Commemorating Full of Life and Media Luna. Therefore, I have tried to summarize the backstory of the origins of this project because it is important for anyone entering the project to be aware of its history. The ethos and ground on which this new form of commemorating was born.
Over time, people have left and added. In honor of all these people, this document is to remind them of their contribution or the contribution they can make.
Field of Honor Full of Life - Commemorating Full of Life
Field of Honor Full of Life is part of the organization Commemorating Full of Life. Because the name Field of Honor gives a literal and figurative boundary: A Commemoration on a Field of Honor or a cemetery with designated war graves.
While the principles, experiences and results of Field of Honor Full of Life invited me to go beyond these boundaries and develop further.
Because in fact the name Commemorating Full of Life says exactly what the commemoration Field of Honor Full of Life does; On a Field of Honor a commemoration Full of Life takes place. But a commemoration that in addition to a Field of Honor could also take place in places where there are no apparent war graves or who according to the principles of a Field of Honor do not get a grave there. Because they did not contribute to freedom or peace but became victims of war. But the largest number of Dutch victims are those who perished in the concentration and extermination camps.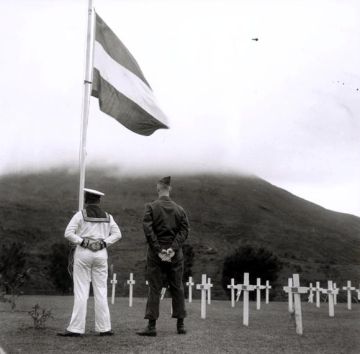 >
Ik ben van mening dat de uitgangspunten en principes van Ereveld Vol Leven – het zichtbaar maken van datgene wat verloren is gegaan toen en door de generaties heen, met behulp van representanten– op veel meer plekken mogelijkheden biedt.

Inspiration and methodologies within Field of Honour Full of Life
The commemoration Field of Honour Full of Life was created 4 years ago from principles and perspective of Systemic Work and Systemic Rituals by Daan van Kampenhout. While attending workshops with Daan, it became clear to me how big and how far in time Constellations can be done. And besides these sources of inspiration, I also realize very well that my own family history, my experiences, lessons and insights also play a big role in formulating and shaping this form of commemoration.
Origin of the Field of Honour Full of Life project
I have been traveling since 1998 for War Child to various (post) war areas in which I became an eyewitness of the madness and destruction of war. But also of the far-reaching consequences of war. Experiences, traumas and resulting scars of war are passed on for generations. Consciously or unconsciously.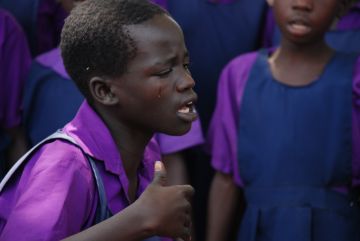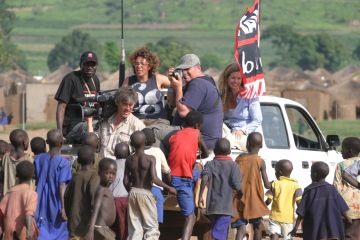 Meanwhile I also worked on projects of the National Committee 4 and 5 May which made me involved in commemorating and celebrating our freedom on May 5. And somewhere it always felt kind of sad that on May 4 we 'only' have 2 minutes of silence. I know that as a child I was scared to death when I heard about the Second World War and that it hadn't happened that long ago and that our grandpa's and grandma's had experienced this.
I could hardly believe it and also felt for a long time that they carried a secret with them because they had lived through this hell. A total derailment and destruction of the Jewish people. So recently on the most civilized and developed continent of the world at that time. I learned that development and civilization did not guarantee this disaster and this hell.
...
...
......
......
...
...
...
...
...
...
...
...
...
...
..................
..................
And my astonishment persisted over "only 2 minutes of silence" on May 4. In my head I had been thinking for some time about a different way of commemorating that should transcend the impact of these 2 minutes. Because I believe that standing still for longer gives you more time to reflect. On such a major catastrophic event as WWII.
Important to mention here is that in 2009 I had started a three-year training at Phoenix Trainings where Systemic Work was central. Besides Transactional Analysis and NLP, the methodology of Systemic Work was the reason why I had chosen this training.
My Introduction to Representatives - Systemic Work - Family Constellations
I had been introduced to this methodology during a Personal Development workshop and from the very first moment was fascinated and triggered by what a "field" can show. A field which is created with the help of representatives. That is, participants who are asked to stand in a field of a participant who brings in a personal question. The facilitator asks him or her if he or she, as facilitator, may put up this question, in an image. Beyond and different from the words we all already know so well. For example, the participant in question is asked to put down his family with the help of the other participants. He chooses someone for his parents, his brothers, etc. But also for his grandparents and also, for example, someone for good luck and bad luck. I am positively amazed by this way in which a field is created of his family in which the places a participant gives to his family are already so meaningful.
My initial introduction is now 13 years ago and I remember making the decision; I want to know all about this. It became clear to me how unconscious dynamics, decisions, traumas of grandparents or our own parents can have a great influence on our actions today. And where there is often little or no awareness of it. Several times I had seen the genuine surprise in people when that awareness became clear. An insight or awareness which they themselves had created with the help of a Systemic facilitator. I myself had experienced this several times and each time I was stunned and amazed by the enormous impact.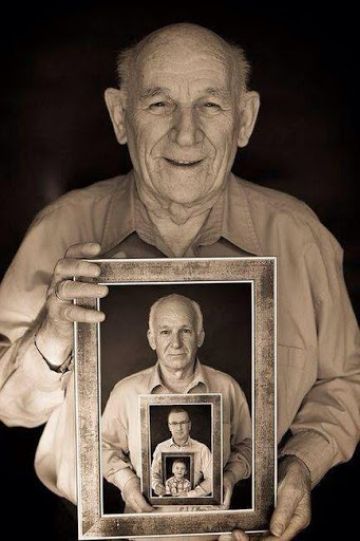 I became more and more convinced that I wanted to learn this way of listening and watching people's life stories. And yes, I already had a profession as a director and producer but somewhere this just had to happen. So after more workshops and trainings I decided to take the 3-year course in 2009. Then two more years of deepening in which telling (healing) stories and Systemic Work were central. I obtained all my diplomas and certification knowing that all these trainings would have a destination somewhere.
The idea was born on National Field of Honor Loenen
In 2014, together with my former colleague Dennis Brussaard, I visited the National Field of Honour in Loenen. The occasion was a joint dinner a few weeks earlier, where we shared what we were working on. I was searching for a new way of commemorating, but also all my studies, which I was full of and in the middle of. I tried to convince Dennis that he should do such a workshop at some point.
Dennis was shaping a new company. He shared his visit to the Loenen National Field of Honour where he had ended up by chance. He had been amazed at the gravestones of these war victims which showed above all that they were still so incredibly young. He had sat silently for some time at the headstone of Dennis van Uhm - a boy with the same name he had. And that had struck him immensely....
And as Dennis shared his feelings about this, the idea came to mind. So people were extra touched when there was something personal of theirs involved or in which they had some kind of recognition. Then I knew. The ages of these war victims could correspond so that it literally became visible how young these boys were when they were killed and what life still lay ahead of them.
In order to commemorate these war victims we had to put up all these far too young boys one more time, including Dennis van Uhm. Behind Dennis' grave had to stand a boy of 23, the age Dennis was when he was killed by a roadside bomb during an international operation in Afghanistan.
I saw the lineup before me. Lineups as I had seen and experienced many times over the past 13 years in different places. Constellations in which it was quite normal to give the people who died a place and therefore meaning in your life. My former colleague Dennis was immediately enthusiastic and his visual skills helped him to imagine it, even though he had never seen a constellation before.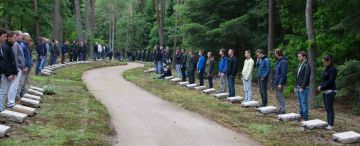 This is where the idea was born to look not only at the headstones but also at the life that belongs to them and was lost to war. What would it be like if we put a very large line-up here, in this place, in a cemetery of honour? A big field full of representatives for the people who perished and whose graves were here? What kind of image would emerge? And what would be seen, experienced and visible? At my workshops with Daan van Kampenhout, I had experienced how big a constellation could be, how much impact it had and how it could go beyond the boundaries of time. After this visit I started writing a script for a television program. Because that's what I was after all; A maker of television programs. What I wrote down then is still the starting point of the commemoration Field of Honor Full of Life.
REALIZATION FIELD OF HONOR FULL OF LIFE
After writing this script, there was a long road because I had to convince stake holders that this memorial was possible. But I could not show it to them because it had never happened before. So I asked my fellow course participant from the Systemic Working course, Tina Willekes Scoon, to make sketches.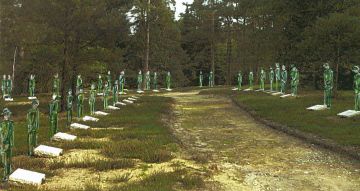 Tina created several images before the right tone was struck. But in the end, we were able to present these drawings to several parties that convinced them to step in along with the concept idea.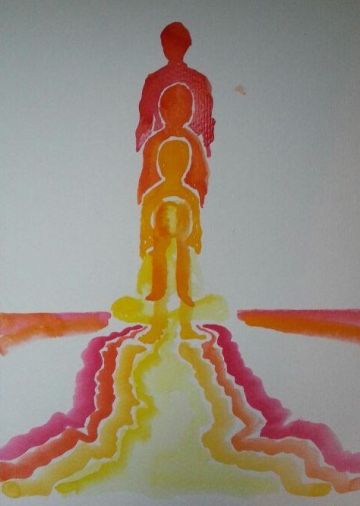 I also asked Phoenix Trainings to look in on the development of this ritual. Morten Hjort, Joke Goudswaard and Miriam Broekhuizen played an important role in this. And Tina Willekes Scoon was also closely involved. I was able to brainstorm with them about all the possibilities and impossibilities.
We also talked a lot with relatives who gave us their trust and their stories. About the devastating impact of the loss of the life they loved. The enormous rifts this caused in the family but also in the generations that followed. Tina depicted these rifts in the drawing on the right.
Who made Honor Field Full of Life possible?
Important gatekeepers of this process are Jan van Kooten - general director National Committee May 4 and 5, Gel Flieringa - director War Graves Foundation until 2016. They both gave their faith and trust to this project which allowed us to follow through.
As supervisors, Jan Jacob Stam (director Bert Hellinger Institute) and Daan van Kampenhout (owner Systemic Ritual and author of The Tears of My Ancestors) are very valuable. I still turn to them for advice.
The enthusiasm and belief in this new form of commemoration from so many people ensured that it did not remain a dream but became a reality. Almost all Media Luna stakeholders stepped in, from broadcasters to presenters, to designers, business contacts, producers and editors.
Through this interplay of a committed group of people, a mission to bring commemoration closer to a young audience more than succeeded. By bringing the war victims back to life for a moment - looking at them one more time, making us recognize them, acknowledge them, it truly became a Field of Honor Full of Life.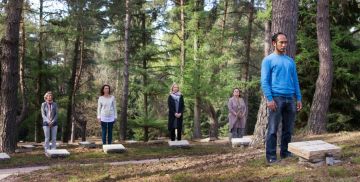 What is the purpose of Field of Honour Full of Life?
Ereveld Vol Leven has not become a copy of the traditional commemoration of the dead as we know it every year in the Netherlands on May 4. On the contrary, it is a new form of commemoration in support of what we know. To offer people (and especially young people) an image in which the consequences of war become clear. Not only for those who were killed by war, but also for the relatives who stayed behind and the generations that followed.
Therefore, at Field of Honor Full of Life we not only look at the past, but also at how the events of the past are still connected to our lives today. What do we still notice today? What do the family members of the war victims notice?
What was the impact of these war victims' choices on their families and subsequent generations?
What is the impact of the loss, the death of their loved one on these same people? How has it affected their lives in the here and now? And how many generations does this continue?
What do we learn from this? Today and beyond, towards the future. Important life lessons that need to be repeated. Each and every year. Making these connections, this loss and grief visible is an important objective of the Commemoration Field of Honor Full of Life.
What does Field of Honor Full of Life look like?
At the Commemoration Field of Honor Full of Life, we symbolize the fallen by putting ourselves in the shoes of these ordinary people who did extraordinary things. Literally at each stone will be the soldier, civilian, resistance fighter, political prisoner or Englander. Row by row, the mostly young men and women will stand there. To make it clear that each stone symbolizes a life. Their life. Each with their own dream, expectation and story. They have ensured that we may live in peace and freedom. The image is very impressive. Never before have we experienced and beheld a Field of Honor like this. We are even part of it.
If you need inspiration and concrete examples and stories, click here to go to the Field of Honor Full of Stories page.
The entire document you have read on this page was written by Nathalie Toisuta - initiator Field of Honor Full of Life.